Waverider

In the early 90's, a photograph of a young boy dropping in on a huge unknown wave made the cover of Surfing Life. The photograph became iconic.
20 years later, the Fijian surfer the world had never heard of, earned the chance to compete against the best surfer the world has ever seen. This is his story.
At Cloudbreak, now rated by many as the best wave in the World, local boatman, Isei Tokovou won a wildcard entry into the Volcom Fiji Pro World Championship, with more than $400,000 in prize money.
Surfing his home-­‐break with hand-­‐me-­‐down boards and without a trainer or support team, Isei carries the hopes of a nation into competition.
 Run time: 62mins
Screening Time: October 17 - 8:45pm
with Sunyata Lapse and What to Wear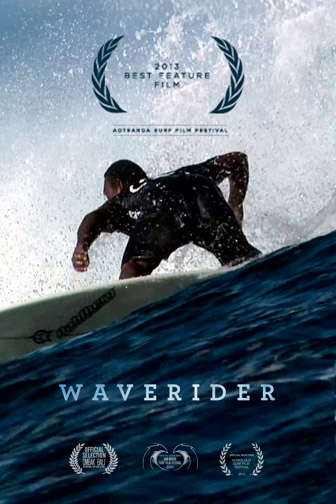 Credits:
Produced by Gareth Davies, Alex Lawson and RedYeti Films Directed and Edited by Karl Lear
Narrated by Daryl Habraken Sound Design by Native Audio
Music by Cairo Knife Fight, Jacob, Ahoribuzz (Mushroom Music) Featuring: Isei Tokovou, Kelly Slater, Joel Parkinson, Mitch Coleborn, Pat Gudauskas,Travis Logie, Jordy Smith
Awards to Date:
Winner, Best Feature  Film  2013  -­‐  Aorearoa  Surf Film  Festival (NZ) Official  Selection  –  Honolulu  Surf  Film  Festival
Official Selection – San Diego Surf Film Festival