Immersion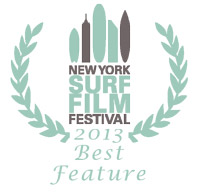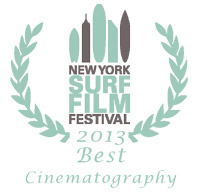 Have you ever thought how and where liquid monsters are made and where they end up?  Have you ever seen surfers in the barrel or the tube and wonder how it looks from the inside looking out?
Have you thought that riding a wave is a lot more than standing on a surfboard, where there are all sorts of ways that a person can glide on the crest of a wave?  Have thought that over a hundred years we have been exposed to surfing photography which is one of the most passionate creative jobs in the world of to get the chance to see the worlds best all in one night?
What about why big wave surfers do what they do when they are only inches away from death.
All these questions and more will be shown in detail in IMMERSION - The Movie. The story of what is surfing NOW.
Over the past four years, surfing enthusiast and filmmaker Tim Bonython has spent every available moment doing what he loves - conducting interviews and filming images of breath-taking and death defying wave riding from all corners of the globe to create a one length 108 minute movie.
IMMERSION - The Movie immerses you into why people surf & how it becomes them.
IMMERSION will take you behind the science of surfing where you will witness some of the biggest swells ever ridden around the world.
IMMERSION documents events that made comprehensive & unforgettable stories that have taken the sport to a new exciting, different level.
The story of paddle verse tow talks about how paddling for a wave is a lot more rewarding & courageous than getting towed into one. Except when it gets TOO BIG! As it did at Teahupo'o last year in Tahiti when 'The Code Red Swell' was called. It was one of the biggest and most dangerous swells ever surfed at the famous surf break to date. Then we have Fiji's Cloudbreak. June 2012, there was one of the great swell events there until this year during the Volcom Pro.
History was created with the greatest day in big wave surfing.
Surf footage from across the globe from Jaws in Hawaii to Naraze in Portugal, Mullaghmore Head in Ireland, Shipsterns Bluff in Tasmania & The Right in Western Australia, featuring the best big wave surfers on the planet.
IMMERSION is not just big waves and big wipeouts as the film covers everything that surfing is. It includes the different forms of riding a wave from body surfing and bodyboarding, surf ski, kite surfing, wind surfing and even the latest new phenomena, stand up paddle boarding.
IMMERSION interviews some of the most reputable & passionate surfing photographers on the planet. Find out what surfing means to them behind the lens and how there business has evolved over the years.
IMMERSION shows footage shot through a high-speed Phantom Camera that shoots 400 frames per second, Teahupoo never looked so scary!
Hailed as our best production to date, immersing surfers and people alike in the sport of surfing in a way that has never been seen or heard before.
IMMERSION is a "must see" movie for surfing enthusiasts of all tastes, genres and generations.
Runtime: 104 minutes
Screening Time: October 17 – 10:30pm

with Surf Right
Contacts:
Sandrine Bonython – managing director
Tim Bonython – director
More info online:
www.immersionthemovie.com